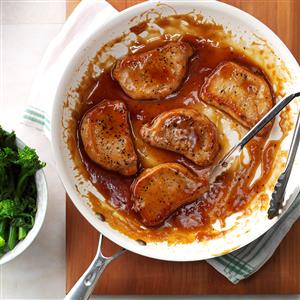 Ingredients:
6 boneless pork loin chops (4 ounces each)

3/4 teaspoon pepper

1/2 cup water

1/3 cup cider vinegar

1/4 cup packed brown sugar

2 tablespoons soy sauce

1 tablespoon Worcestershire sauce

1 tablespoon cornstarch

2 tablespoons cold water
Directions:
Sprinkle pork chops with pepper.I

n a large nonstick skillet coated with cooking spray, cook pork over medium heat for 4-6 minutes on each side or until lightly browned.

Remove and keep warm.

Add the water, vinegar, brown sugar, soy sauce and Worcestershire sauce to skillet; stir to loosen browned bits. Bring to a boil.

Combine cornstarch and cold water until smooth; stir into skillet. Bring to a boil; cook and stir for 2 minutes or until thickened.

Return chops to the pan. Reduce heat; cover and simmer for 4-5 minutes or until meat is tender.
** Serves 6.
Recipe & Photo Credit: https://www.tasteofhome.com/recipes/tender-sweet--n--sour-pork-chops