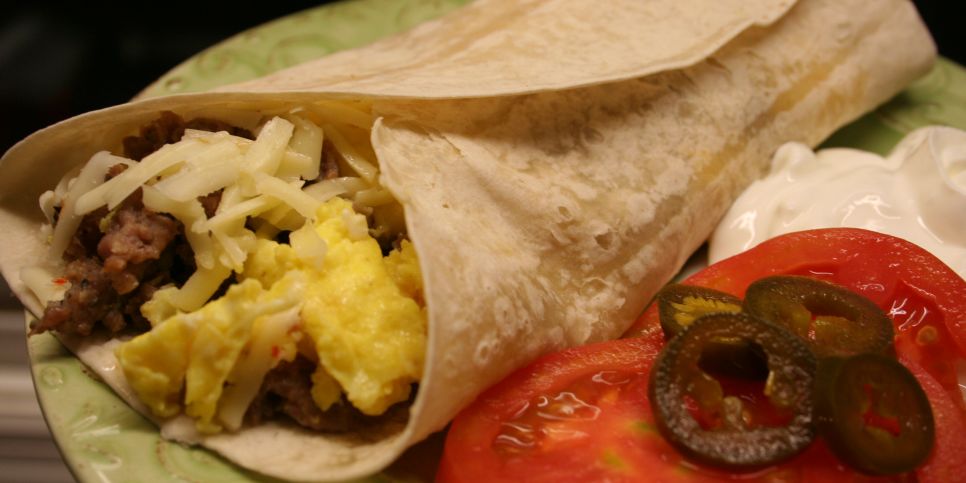 Ingredients:
1 lb sausage, cooked
2 tablespoons butter or margarine
6 large eggs or 6 large egg whites or 6 large egg substitute
1 bell pepper or spicy pepper (optional)
1⁄4 cup salsa
8 (8 inch) flour tortillas
3⁄4 cup shredded cheese
Directions:
Over medium-high heat, in a large nonstick skillet, add the sausage. Stir until sausage is browned and cooked through, about 10 minutes. Place on paper towels to drain and dispose of remaining grease. Cut into bite-sized pieces.
Place the butter or margarine in the skillet and melt over medium-high heat. Add the eggs, stirring frequently until they're scrambled and cooked through, about two minutes.
Add the cooked sausage, peppers (optional - chopped), and salsa to the egg mixture and stir gently. Remove from heat.
Warm the tortillas as directed on package.Place about 1/2 cup of the egg and sausage mixture onto each tortilla and sprinkle each one with cheese. To form the burrito, fold the sides of the tortilla in toward the middle and then fold up from bottom. Serve immediately or freeze.
*** TIP: If the burritos won't be eaten right away, freeze them using the following steps: Lay freezer bag flat and place the burritos inside so they are lying side by side and not overlapping. You may need to use multiple bags depending on how many burritos you are freezing. Close the bag most of the way and then press air out of the bag, gently smoothing the wrinkles so that it clings to the food to protect against freezer burn. Finish closing the bag completely and freeze as soon as possible. When ready to eat, take the burrito out of the bag and wrap in a plain paper towel. Leave it wrapped in the paper towel and microwave until hot, about one to three minutes on high.
Recipe & Photo Credit: http://www.geniuskitchen.com/recipe/egg-sausage-breakfast-burrito-250110